HURST 817-595-4500       WEATHERFORD 817-550-6073
We are so excited to announce the newest member of the
SkinMD TEAM!
Please join us for our Meet & Greet on
Monday, November 20th from 4pm-6pm in Weatherford
& 
Tuesday, November 28th from 4pm-6pm in Hurst
to introduce Karen Sticka, PA-C
Karen is a board-certified dermatology physician assistant who specializes in medical, surgical and cosmetic Dermatology.   A native New Yorker, she graduated in 1997 from Canisius College in Buffalo with a Bachelor's Degree in Science and Sports Medicine.  In 1999, she completed her studies as a Physician Assistant at LeMoyne College in Syracuse, NY. Karen spent her early medical career in Emergency Medicine, diagnosing and treating everything from simple illnesses and injuries to life threatening conditions.  She initially gained dermatology experience in cosmetic and laser procedures, and soon discovered her true passion.
In 2015, her extensive training, education and commitment to ongoing studies earned her the title of Diplomate Fellowship through the Society of Dermatology Physician Assistants. This status is the highest available achievement within the profession as recognized by the American Academy of Dermatology. She is also a member of the Texas Academy of Physician Assistants and and active member of the Texas Society of Dermatology Physician Assistants .
Karen provides a wide range of dermatologic care, such as skin cancer screening and treatments, acne, psoriasis, eczema and surgical excisions.   She is also experienced in advanced skin rejuvenation techniques and uses a customized approach to each patient based on their lifestyle and needs. She believes that patient education and prevention is as important as diagnosis and treatment of their condition.
In her spare time, you can often find Karen on the baseball field cheering on her children, or trying out the newest food trucks with her husband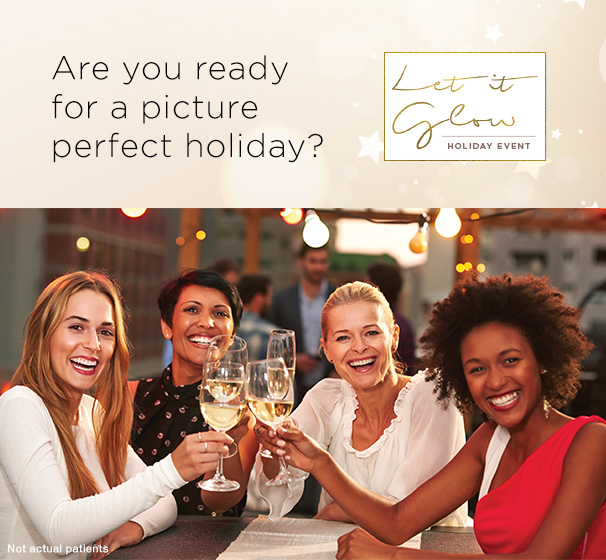 Save up to $200 right now*
Talk to your specialist about how you can take advantage of this exciting limited-time offer.
*Offer terms and conditions apply. See details below.
$200 Off
a treatment with 2 syringes of any Restylane filler and treatment of Dysport.
Don't delay!
This offer is redeemable at the time of treatment between October 3, 2017 to February 28, 2018.
Ask your specialist for more information.
Dysport is a prescription injection for temporary improvement in the look of moderate to severe frown lines between the eyebrows (glabellar lines) in adults less than 65 years of age.

Please see Important Safety Information including Distant Spread of Toxin Effect Boxed Warning for Dysport below.
The American Cancer Society recommends:

Women 40+ years
Women in 20s and 30s

Clinical breast exam every 3 years

The U.S. Preventive Service Task Force recommends:

Women at average-risk between 50 – 74

Mammogram every two years

It is important to consult your physician and come up with a screening schedule that takes your medical and family history into account.











 Now available at SkinMD!
Skin health doesn't have to be complicated.
The Hydrafacial MD treatment can be tailored to safely & effectively address your unique needs.
SIGNATURE HYDRAFACIAL – $150 This treatment deeply cleanses, exfoliates, extracts, and hydrates the skin utilizing superior serums filled with antioxidants, peptides, and hyaluronic acid. Uses mild Glycolic/Salicylic peel without the flaking/downtime
CORRECTIVE HYDRAFACIAL – Includes everything in the Signature Hydrafacial plus added boosters to help correct problematic skin & LED Blue/Red Light Therapy
Brightening $199 – Uses Britenol & LED red light therapy to help correct brown spots, melasma, and sun damaged skin
Clearing – $175 – Combines LED blue/red light therapy to aid in reducing bacteria and inflammation along with extended extractions to help clear up acne, congested skin
Anti-Aging – $199 – Includes Dermabuilder peptides and LED red light therapy to tighten and reduce fine lines & wrinkles
Ultimate Anti-aging – $229 – CTGF (Connective tissue growth factors) aids in elasticity loss and creates regenerative factors to the cells with LED red light therapy
*Add lymphatic drainage to any of the above treatments for $30 more
Removing toxic build-up is important in optimizing skin health so skin can be naturally healthy and radiant from the inside-out.
The Works – $299 – This treatment will help to improve a variety of conditions at the same time. Great for those with sun damage, fine lines & wrinkles, breakouts, and overall aging. Includes CTGF + Britenol or Dermabuilder + LED therapy + Lymphatic drainage
*For the best overall improvement of your skin it is recommended to have this treatment every 4-6 weeks.
Healthy Skin Club Members get 10% off
Click here for more information